Buying a Turkey
Turkey Labeling Definitions
BASTED or SELF-BASTED –
Bone-in poultry products (such as whole birds) that are injected or marinated with a solution containing butter or other edible fat, broth, stock, or water, plus spices, flavor enhancers, and other approved substances must be labeled as "basted" or "self-basted". The maximum added weight of approximately 3% solution before processing is included in the net weight on the label. Labels must include a statement identifying the total quantity and common or usual name of all ingredients in the solution, e.g., "Injected with approximately 3% of a solution of _____________ (list of ingredients)."
When using the terms "basted" or "self-basted" on boneless poultry products (such as turkey breasts and roasts), the solution is limited to 8% of the weight of the raw poultry before processing.
FREE RANGE or FREE ROAMING –
In order to use these terms on a label, producers must demonstrate to USDA that the poultry has been allowed access to the outside.
FRESH POULTRY –
Turkeys to be sold as "fresh" must be stored at a temperature no lower than 26 °F.
FROZEN POULTRY –
Turkeys sold as "frozen" must be stored at 0 °F or below.
FRYER-ROASTER TURKEY –
A young turkey, usually less than 16 weeks of age and of either sex.
HEN or TOM TURKEY –
The sex designation of "hen" (female) or "tom" (male) turkey is optional on the label and is an indication of size rather than tenderness.
KOSHER –
"Kosher" may be used only on the labels of turkeys that are prepared under Rabbinical supervision.
MINIMAL PROCESSING –
Minimally processed could include: (a) those traditional processes used to make food edible or to preserve it or to make it safe for human consumption, e.g., smoking, roasting, freezing, drying, and fermenting; (b) those physical processes which do not fundamentally alter the raw product and/or which only separate a whole turkey into parts or grinding of the turkey.
NATURAL –
Turkey containing no artificial flavor or flavoring, coloring ingredient, chemical preservative, or any other artificial or synthetic ingredient and is minimally processed (a process which does not fundamentally alter the raw product) may be labeled "natural." The label must explain the use of the term "natural" (e.g., no added colorings or artificial ingredients; minimally processed).
NO ANTIBIOTICS –
The term "no antibiotics added" may be used on labels for poultry products if the producer sufficiently documents to FSIS that the animals were raised without antibiotics.
NO HORMONES –
Hormones are not allowed in raising poultry. Therefore, the claim "no hormones added" cannot be used on the labels of poultry unless it is followed by a statement that says, "Federal regulations prohibit the use of hormones."
ORGANIC –
The Final Rule for the new organic standard was published on December 21, 2000, and it offers a national definition for the term "organic." This rule details the methods, practices and substances that can be used in producing and handling organic crops and livestock, as well as processed products.
The Final Rule specifically prohibits the use of genetic engineering methods, ionizing radiation, and sewage sludge for fertilization.
The USDA's National Organic Program, under the direction of the Agricultural Marketing Service, is currently implementing the final rule. Producers, handlers and processors may not use the USDA Organic seal on any product packaging until the rule is fully implemented on October 21, 2002.
Until then, USDA is permitting certain meat and poultry products to be labeled "certified organic by (name of certifying entity)." The label must be pre-approved by USDA and the claim must meet certain basic criteria. The certifying entity must have standards that define what constitutes an "organically produced" product and a system for ensuring that the products meet those standards. For more information about USDA's National Organic Program, go to
www.ams.usda.gov/nop.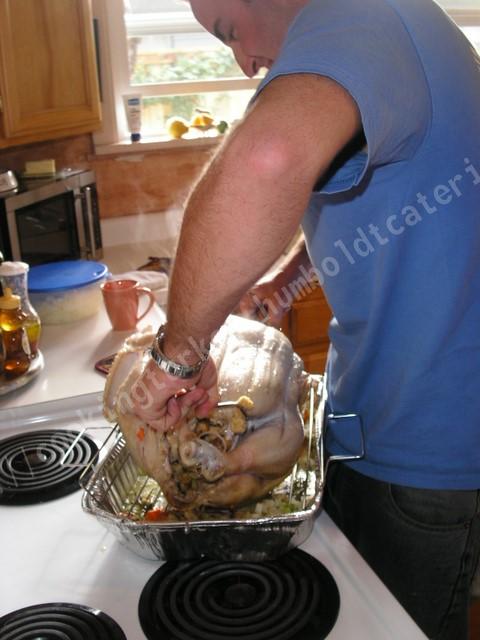 The information on this site was produced by the USDA and compiled by the site owners, who are not responsible for accuracy or completeness. Site design (c)2007 humboldtcatering.com


Other Topics: